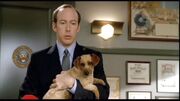 Wendell (portrayed by Evan Arnold) is the assistant of Happy Chapman.
He is seen for the first time giving pharmaceuticals to Chapman who is allergic to cats since he has to work for his TV show with one called Persnikitty. He later appears at the dog contest, which Jon Arbuckle has attended with his new dog Odie. He is surprised, like the juges, to see Odie dancing.
After Odie goes missing, Wendell notices the flyer for him. He goes with Happy to get Odie, who is at Mrs. Baker's house. In Happy's office, when Wendell sees Happy pull out the electric collar for Odie, he balks, saying that it is inhumane. He accompanies Happy and Odie to the train station to take the New Amsterdam for New York. After Garfield saves Odie, Wendell notices them running away and alerts Happy. He is seen for the last time on the news, running after the police car with Happy Chapman inside.
Appearances
Community content is available under
CC-BY-SA
unless otherwise noted.