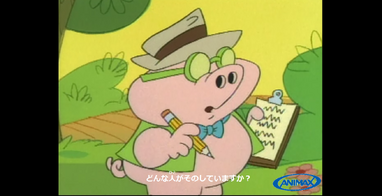 I'm mimitchi33, a big fan of US Acres. Here are my top 3 lists, with the first one on the list being #3.
A Special Thanks
As of September 22, 2012, my article, Aloysius Pig, is the featured article. Thank you for making it possible, admins!
My Garfield and Friends favorites
Top 3 U.S. Acres segments
Wanted: Wade-This episode is about Wade going to jail after ripping the tag off a pillow. The song in this episode really takes the spotlight as the why I like it, as well as the fantasy sequence.
Orson In Wonderland-It was fun to see Orson and gang reenact this story.
The Aloysius Pig Triology-Aloysius Pig is such a funny guy, and these episodes are funny. From the goat incident to Aloysius firing people at random to the "innappropriateness" of tuffets, this was really funny.
Honorable Mention-The Bunny Rabbits Is Coming: Wade was so cute in this episode, but I still think "Wanted: Wade" was cuter.
 2. Top 3 Garfield Segments

Any episode focused on Binky the Clown-What can I say? Binky the Clown's my favorite Garfield character! I liked all of them the same!
The Guy of Her Dreams-I loved the songs Penelope sang in her fantasies!
Happy Garfield Day-This episode had a very funny spoof of Twelve Days Of Christmas, and it was funny how Jon kept being annoyed by the reminders. The funniest part of the whole think had to be when Orson Pig and Roy Rooster sat on the couch watching the extravaganza on TV and Roy farts.
Honorable Mention-Brainwave Broadcast: Want to know how thoughts are read on Garfield and Friends? In this episode, using the telopathovisionatior, Garfield shows you how it's done.
 3. Top 3 Quickies

Snacking-"This could go on for days!"
Diaper-Two words: "Garfield! Bad!"
Something Special About Odie-The hoop trick was cute.
Honorable Mention-Screaming With Binky: Laryngitis: One thing: "I'M SORRY LADIES AND GENTLEMEN BUT I HAVE LARYNGITIS!" And he also stole Roy's stage from Welcome To The 20th Century! This did not count as a quickie, but more like an eyecatch when it originally aired.
Top 3 Fan Videos of Garfield and Friends
Garfield Enjoys Spaghetti: This is a YouTube Poop of the intro to Garfield and Friends.
Garfield and Friends Make It Rain: A funny crossover about The Rainy Day Robot. (Warning: NSFW!)
Orson and the Magic Farmland: A fabulous US Acres retelling of the Thomas The Tank Engine Movie. In the middle of Part 2 and at the beginning of part 5, my favorite US Acres character makes a cameo as the person at the end of the bush in the second picture!
Top 3 US Acres Characters
Orson: He's really funny when he's in "baby" form in the comics, not to mention a good singer.
Wade Duck: Many like him due to him being afraid of everything, but I like him because he's SO CUTE!
Aloysius Pig: Need I say more? He's a cutie, he's really funny, and I'm in love with him!
Community content is available under
CC-BY-SA
unless otherwise noted.