Not to be confused with Garfield Trivia Game.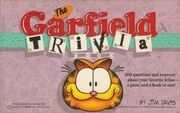 The Garfield Trivia Book is a 1986 book of trivia games.
Content
The book has 30 pages worth of trivia games.  Each page has two sets of five questions, with corresponding answers on the back. Subject matter of the questions include the comic strip, TV specials (up to Garfield in Paradise), and merchandise, as well as general information about Garfield and Jim Davis.
Each set of questions is arranged by the level of difficulty, with the first question being the easiest and the last being the hardest. Easier questions include identifying major characters and determining well-known facts. Harder questions can involve specific comic strips or real world matters.
In addition to difficulty, the number next to each question indicates how many points it is worth if a player answers it correctly (e.g. one point for the first question). After each set of questions, players can add up acquired points. A rating system at the beginning of the book will determine "what kind of Garfield fan" a player is based on the total amount of points earned from a set.
Community content is available under
CC-BY-SA
unless otherwise noted.