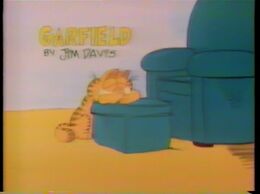 The Fantastic Funnies is a one-hour special on comic strips produced by Bill Meléndez and Lee Mendelson. It first aired on May 15, 1980 on CBS.
The special features live action segments- with Loni Anderson hosting as well as Charles Schulz (Peanuts), Dik Browne (Hagar the Horrible), Hank Ketcham (Dennis the Menace), Johnny Hart (B.C.), and other comic strip creators interviewed- and animated sequences- showcasing comic strips, among them Peanuts, Hagar the Horrible, B.C., Broom Hilda, and Doonesbury.
Loni Anderson introduces Garfield as a "newcomer", being only 2 years old at the time. The strip is represented with a brief animated scene in the special. The segment includes adaptations of comic strips from (in order of appearance) June 21, 1978, July 2, 1979, August 2, 1978, July 21, 1978, and May 12, 1979.
Characters
Major Characters
Minor Characters
Trivia
The Garfield segment in this special is the earliest official animated feature of Garfield.
Community content is available under
CC-BY-SA
unless otherwise noted.