The Automated, Animated Adventure is an episode from the fourth season of Garfield and Friends.
Synopsis
When Jon wants to make a cartoon series about Garfield, an animator uses the opportunity to demonstrate new computer animation.
Plot
Major Characters
Minor Characters
Trivia
Cultural References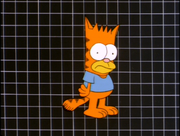 When Garfield is being reformatted into a new cartoon look, among the models used are the title character of Astro Boy and Bart Simpson from The Simpsons.
At one point, Mr. Sprocket proposes making "Baby Garfield" as part of "the newest trend in cartoon shows". This alludes to baby/child versions of cartoon characters, which was very popular around the time the show was aired. 

Coincidentally, there actually is a line of merchandise featuring baby versions of Garfield and his friends.

Mr. Sprocket also alludes to many Hanna-Barbera cartoons such as Scooby-Doo and Jabberjaw.