Stink, Stank, Skunk!
 is an episode from the fourth season of 
The Garfield Show
.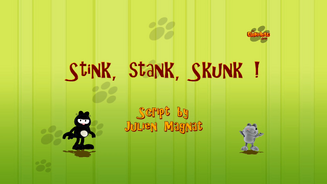 Synopsis
Garfield gets painted to look like a skunk, thinking that it would make life easier for him.
Plot
Nermals is watching tv and remarking on how uncute all the animals he sees on tv are. Garfield and Odie are unhappy with Nermal being in their house and Garfield asks him to remind how long he is planning to overstay his welcome. Nermal says that he was staying for Cutest Pet Pagent and after he won he would depart. Then the news comes on and mentions that a skunk is on the loose in the city. Nermal expresses disgust, saying he hates skunks to which Garfield remarks that he is sure skunks aren't crazy about Nerma either. When Nermal says he is worried that if a skunk were to ruin his fur he would lose the Cutest Pet Pagent and could never live down the shame and have to leave town forever. Garfield says he likes the sound of that.
Then the newscaster describes skunks as being the size of a house cat with black fur and a white stripe down their back. This gives Garfield an idea. He paints himself to look like a skunk and then jumps in full garbage cans to give himself a bad smell. Then he goes inside to get Nermal out. Nermal and Odie notice that something stinks and when he sees Garfield, Nermal reacts with terror and runs away, unfortunately so does Odie. Jon comes back and runs away too when he sees Garfield this makes Garfield enjoy stinking. He goes out around town and causes trouble until a police team tries to capture him. He runs away but doesn't escape until a skunk helps him hide. Then he and the skunk have a little chat, the skunk revealing that skunks do not normally smell bad, they use a stinky perfume to defend themselves. Garfield says he owes the skunk and the skunk tells him not to mention it.
Garfield asks the skunk if being smelly gets a bit lonely and the skunk says it wasn't a problem as skunks are solitary by nature but he mentioned that he would like to win the Cutest Pet Pagent, as he wanted to be known for something other than his bad body odor. Garfield then says that he might be able to help him win it if he helps him get the paint off. Later on Nermal goes backstage before the final judging but before he gets there.
Garfield and the skunk replace Nermal's perfume bottle with the skunk's skunk stink perfume bottle and they both snigger. Nermal puts it on and briefly notices the stench before going back on stage and the stink makes the other two competitors, a pair of dogs faint and it also makes the judges decide he loses and they take him away and then Garfield sprays the skunk with Nermal's perfume and sends him out. At first the judges are terrified but then when they realize that the skunk doesn't stink so they give him the victory and the trophy.
Characters
Main Characters
Major Characters
Trivia
Cultural References
The title of the episode is a play on the "Stink, Stank, Stunk" line from the How the Grinch Stole Christmas! song "You're a Mean One, Mr. Grinch".
Community content is available under
CC-BY-SA
unless otherwise noted.