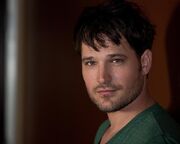 Scott Whyte (born January 8, 1978) is an American actor. He is best known for the role of Chris Anderson from City Guys.
He has appeared in movies- such as Tequila Sunrise, D2: The Mighty Ducks, D3, Reeker, The Fallen Ones, Voodoo Moon, and Death Row- and television series- such as That '70s Show, Just Shoot Me!, The Nanny, Full House, and Hang Time. He was the host of the television series based on the Chicken Soup for the Soul books.
Whyte has also provided voiceover in video games, including Transformers: War for Cybertron (as Jazz), TMNT: Out of the Shadows (as Leonardo), Batman: Arkham, Star Wars: The Old Republic, Call of Duty: Advanced Warfare, the Skylanders series, Infamous: Second Son, Diablo III, Transformers: Rise of the Dark Spark, Transformers: Devastation (as Rumble, Skywarp, and Starscream), Lego titles, The Sims 4, the 2016 remake of Ratchet and Clank, Mighty No. 9, and Blade Runner: Revelations.
TBA
Community content is available under
CC-BY-SA
unless otherwise noted.