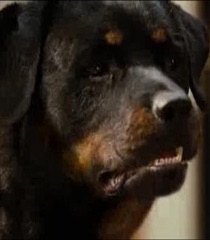 Rommel (voiced by Vinnie Jones) is the former secondary antagonist in Garfield: A Tail of Two Kitties. He is a vicious rottweiler guard dog, who is owned by Lord Dargis and ordered to kill and eat the Prince. He may be trying to go after him, but after the animals offer him Dargis' trousers and convince him not eat the Prince, he eventually becomes good and is no longer Dargis' dog.
Dargis tested Rommel by giving him Prince's favorite pillow, whom he aggressively destroyed. Due to his violence, he was kept on a leash, until Dargis used him to kill Prince. Unknown to him, Rommel was confronted by the Official Feline Protection, and played a Tug-o'-War with Winston, using Dargis' new trousers.
After the Tug-o'-War, Rommel went to find Dargis. He was now obsessed with trousers, and attacked Dargis for trousers, while he was talking to Abbey Westminister on the phone.
After the trouser fiasco, Dargis wore armour and encouraged Rommel to destroy a painting of Prince with food. Rommel obediently destroyed the portrait. However, Smithee witnessed it, and Dargis sent him on holiday.
Rommel was seen again, chasing after Dargis for trousers when he was trying to kill Prince.
Appearances
Community content is available under
CC-BY-SA
unless otherwise noted.