Line 119:
Line 119:
 

RT91.png

 

RT91.png

 

RT92.png

 

RT92.png

 
+

RT93.png

 
+

RT94.png

 
+

RT95.png

 
+

RT96.png

 
+

RT97.png

 
+

RT98.png

 
+

RT99.png

 
+

RT100.png

 
+

RT101.png

 
+

RT102.png

 
+

RT103.png

 
+

RT104.png

 
+

RT105.png

 
+

RT106.png

 
+

RT107.png

 
+

RT108.png

 
+

RT109.png

 
+

RT110.png

 
+

RT111.png

 
+

RT112.png

 
+

RT113.png

 
+

RT114.png

 
+

RT115.png

 
+

RT116.png

 
+

RT117.png

 
+

RT118.png

 
+

RT119.png

 
+

RT120.png

 
+

RT121.png

 
+

RT122.png

 
+

RT123.png

 
+

RT124.png

 
+

RT125.png

 
+

RT126.png

 
+

RT127.png

 
+

RT128.png

 
+

RT129.png

 
+

RT130.png

 
+

RT131.png

 
+

RT132.png

 
+

RT133.png

 
+

RT134.png

 
+

RT135.png

 

</gallery>

 

</gallery>

 

[[Category:Article stubs]]

 

[[Category:Article stubs]]
---
Revision as of 00:03, 29 March 2015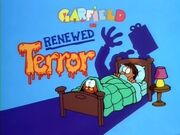 Renewed Terror is an episode from the fifth season of Garfield and Friends.
Synopsis
Jon gets pestered into subscribing for a magazine, and once he does subscribe, it doesn't end there.
Plot
Characters
Trivia
Goofs
On the clipboard paper, Lee Mendelson's last name is misspelled as "Mendleson".
Gallery
Community content is available under
CC-BY-SA
unless otherwise noted.