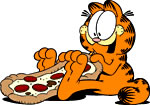 Pizza is flatbread topped with tomato sauce, cheese and often other ingredients; also one of the Italian cuisine meals that Garfield likes - it makes various appearances in the Garfield franchise, such as in "Perfect Pizza".
Garfield is seen liking pizza along with spaghetti, chicken, pies, hot dogs, donuts and lasagna. Unlike the latter, other characters in Garfield and Friends are also shown enjoying pizza with Garfield.
Nowadays, Garfield is seen eating pizza more often than lasagna, his favorite food. In 20 Years & Still Kicking!: Garfield's Twentieth Anniversary Collection, Jim Davis stated that he wishes he had made pizza Garfield's favorite food rather than lasagna, as he claims that pizza is much easier to draw than lasagna is.
Trivia
In the comic strip, Garfield and Jon have ordered 15,000 pizzas as of the July 13, 2019 comic.
In the January 24, 2020 comic, Garfield tells Arlene that he dreams of a day with lasagna as a pizza topping.
Liz once ordered an extra large pizza with pepperoni, mushrooms, extra cheese (naturally according to Liz), green peppers, olives, onions, sausage, hot peppers, anchovies, and beef. Excited, Jon wondered what he ever did to deserve her. Likewise, Garfield was also impressed with the way she said "extra cheese".
Garfield once put a piece of lasagna in between two slices of pizza. Jon rejected the idea at first, but after taking a bite, he immediately had a change of heart.
Jon once received a weather alert about a big storm on his cell phone and told Garfield that a lot of businesses were closing early, including a pizza parlor. When Garfield heard about the pizza parlor, he immediately replied to Jon "WE'RE DOOMED!"
Jon once received a phone call from a pizza parlor, with the employee telling Jon to let him know how much they love him and made a smooching sound before hanging up. Jon then assumed that Garfield and himself order pizza too much.
When Jon once tried to order a pizza, the employee he called asked him about a service plan. Outraged, Jon angrily asked the employee why he would need a service plan for a pizza.
In most of Garfield and Friends and The Garfield Show, Garfield is shown to dislike pizza with anchovies. Penelope Pussycat shares such a taste with him. In the comics, Garfield is shown to like anchovies on pizza. , In the Garfield and Friends episode "Nighty Nightmare", Garfield indicates an interest for anchovies, as he notes Jon forgot to include them on the pizza he had ordered.
Gallery