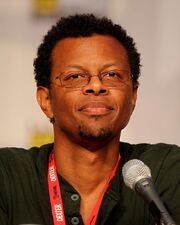 Phillip "Phil" LaMarr (born January 24, 1967) is an American actor and voice actor.
As a voice actor, LaMarr is best known for his roles in Futurama (as Hermes Conrad, Ethan "Bubblegum" Tate, and Reverend Lionel Preacherbot, among others), Static Shock (as the title character), Samurai Jack (as the title character), Justice League (as the Green Lantern), and Foster's Home for Imaginary Friends (as Wilt). He has also contributed voiceover in Family Guy, The Proud Family, The Weekenders, Grim and Evil, The Weekenders, Codename: Kids Next Door, Ozzy and Drix, King of the Hill, The Animatrix, The Life and Times of Juniper Lee, My Gym Partner's a Monkey, Class of 3000, Transformers Animated, Spectacular Spider-Man, Chowder, El Tigre, Star Wars: The Clone Wars, Afro Samurai, Young Justice, The Avengers: Earth's Mightiest Heroes, the 2012 Teenage Mutant Ninja Turtles series, Ultimate Spider-Man, Star Wars: Rebels, Mighty Magiswords, Milo Murphy's Law, Craig of the Creek, Metal Gear, Mercenaries, Jak and Daxter, The Legend of Spyro: A New Beginning, Darksiders, Final Fantasy XII, inFAMOUS, Dead Island, the Injustice series, Marvel vs. Capcom: Infinite, and Fortnite.
He was one of the original cast members of MADtv.
Community content is available under
CC-BY-SA
unless otherwise noted.