Penelope Pussycat is a love interest for Garfield, specifically in Garfield and Friends. From the fifth to the seventh season, she started to appear regularly throughout the show. She lives in an Italian restaurant, this being the the main reason Garfield goes out with her. Penelope is annoyed by Garfield's love for eating, though this does not hinder her love for him, as she claims she enjoys his company.
Physical Appearance
Penelope has beige fur, pale red-violet lipstick, a mauve colored nose, a forelock hairstyle, side whiskers, a beauty spot on her right cheek and blue pupils. In The Garfield Rap, she is shown in a gray shade.
Changes
Between episodes, her appearance changed:
Personality
Penelope has been shown to rarely crack jokes at Garfield's expense. Her and Garfield's relationship has been shown to be unsteady, as he sometimes prefers to eat, rather than be with her. This fact being proven, as Garfield appreciates Penelope rather for her living in an Italian Restaurant.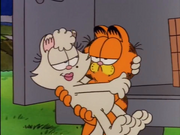 Roles
Perils of Penelope
The Garfield Rap
The Genuine Article
The Second Penelope Episode
The Garfield Musical
The Third Penelope Episode
The Guy of Her Dreams
The Stand Up Mouse
Appearances
Season 5
Season 6
Season 7
Trivia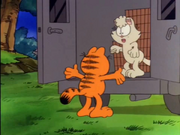 Foreign Links
Community content is available under
CC-BY-SA
unless otherwise noted.