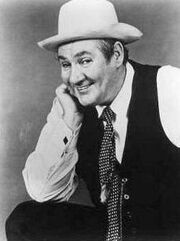 Maxwell Emmett "Pat" Buttram (June 19, 1915 - January 8, 1994) was an American actor and voice actor, best known for playing Mr. Haney in Green Acres.
Having started in radio, Buttram first became known as a regular on the WLS program National Barn Dance. He later became a co-star to Gene Autry in numerous films, as well as the radio show Melody Ranch and the TV series The Gene Autry Show.
He contributed voiceover to many Disney films, including The Aristocats (as Napoleon), Robin Hood (as the Sheriff of Nottingham), The Rescuers (as Luke), The Fox and the Hound (as Chief) and Who Framed Roger Rabbit? (as one of the bullets). He appeared posthumously in A Goofy Movie.
His other movie credentials include The Good, the Bad, and Huckleberry Hound and Back to the Future: Part III.
During CBS's "rural purge" of 1971, Buttram famously quipped that CBS was cancelling "everything with a tree — including Lassie."
Voiceover Roles
Trivia