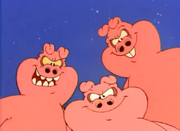 Mort, Wart, and Gort, collectively known as Orson's Brothers, are the main antagonists in the U.S. Acres cartoons. Originally featured without names in the first three weeks of the comic strip's run, they are the elder brothers of Orson Pig who enjoy picking on him or bullying him whenever they visit, and have also been known to steal the farm's vegetable crops. However, they are not particularly smart, allowing Orson and his friends to outsmart the pigs and send them running all the way back home.
More specific information on each brother can be found on their respective pages.
Trivia
Despite their frequent appearances in the cartoon, Orson's brothers were seen only briefly in the comic strip during its first three weeks.
In the children's storybook Garfield's Christmas Tales, Mort, Wart, and Gort are referred to in one story as the Grunt Brothers. This name has not been used in any other Garfield or U.S. Acres media.
Community content is available under
CC-BY-SA
unless otherwise noted.