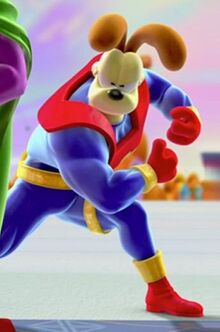 Odious is the Pet Force counterpart of Odie. Unlike the rest of the team, Odious quickly takes to his superpowers and is overjoyed to be a hero.
Powers
Odious's abilities include his stun tongue, which has the ability to stop enemies.
Appearances
DTV Movies
Books
The Outrageous Origin
Pie-Rat's Revenge
K-Niner: Dog of Doom
Menace of the Mutanator
Attack of the Lethal Lizards
Pet Force No More!
The Creature Stalks!
Pet Force Vs. The Fearsome Four!
The Contractor of Doom!
Cat-Astrophe In The Cosmos!
The Fearsome Four Strike Back!
Community content is available under
CC-BY-SA
unless otherwise noted.