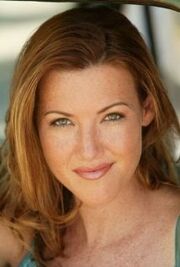 Melissa Disney (born November 20, 1970) is an American voice actress, actress, singer-songwriter, writer, and film producer. She is the daughter of actress Louise Gallagher and writer Carl Femling, the granddaughter of silent actress Tara Gallagher, and a distant relation of Walt Disney.
Among her best known voiceover roles are Ginger Foutley in As Told by Ginger, Elora the Faun in Spyro 2: Ripto's Rage, and as Courtney Gears in Ratchet & Clank: Up Your Arsenal and Ratchet: Deadlocked.
She has done voice over work for movie trailers (one of the first women to do so), starting with Gone in 60 Seconds in 2000. She played Melinda Chisney in the voice actor focused movie In a World...
Voiceover
Community content is available under
CC-BY-SA
unless otherwise noted.