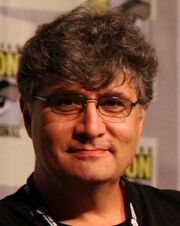 Maurice LaMarche (born March 30, 1958) is a Canadian voice actor and former stand-up comedian. He is best known for voicing Chief Quimby from Inspector Gadget (he would voice the title character in some later installments of the franchise), Egon Spengler from The Real Ghostbusters, Dizzy Devil from Tiny Toon Adventures, Pinky from Pinky and the Brain, Calculon and Kif Kroker from Futurama, Bob the Dinosaur and the Garbage Man from Dilbert, Mortimer Mouse and the March Hare from House of Mouse, Father from Codename: Kids Next Door, and the Root Beer Tapper from Wreck-It Ralph. He has portrayed Popeye in Popeye and Son and Mr. Wilson, Henry Mitchell and Ruff in the second season of Dennis the Menace from 1986.
Among LaMarche's other animation credentials are Attack of the Killer Tomatoes, Gravedale High, Taz-Mania, The Critic, The Tick, Animaniacs, The Simpsons, Freakazoid!, The Adventures of Hyperman, Hey Arnold!, King of the Hill, The Wacky World of Tex Avery, Histeria!, Queer Duck, Sonic Underground, Harvey Birdman, Attorney at Law, Tripping the Rift, Catscratch, My Gym Partner's a Monkey, Super Hero Squad Show, Dan Vs., Adventure Time, Transformers: Rescue Bots, Robot and Monster, Rick and Morty, The 7D, and Penn Zero: Part Time Hero. He has been heard in movies such as Rock and Rule, Cool World, Ed Wood, Space Jam, the second and third Balto films, Pom Poko, Frozen, The Boxtrolls, and Zootopia. His video game roles include Mr. Freeze from Batman Arkham and Night Shift from Skylanders.
LaMarche is well known for his voice impression of Orson Welles, and has often portrayed Yosemite Sam (among others) in modern Looney Tunes features.
Voiceover
Community content is available under
CC-BY-SA
unless otherwise noted.