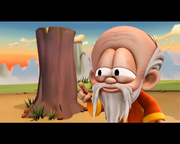 The Master of The Mountain (voiced by Gregg Berger) is a character who appeared in The Garfield Show.
Appearance
The Master is a short old Chinese man with a bald spot on top of his head with white hair at the back of his head with a ponytail. He has a beard and a mustache. He wears red robes with yellow at the edges and wears yellow shoes.
Personality
The Master is described by the pandas as a crazy old mucker. He is also wise and caring showing that he let Garfield, Odie, Nermal and Dingbang have dinner with him.
Appearances
Season 3
Season 4
Trivia
Gallery