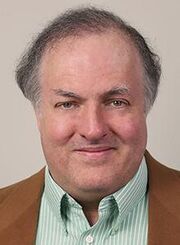 Mark Stephen Evanier (pronounced ev-uh-near; born March 2, 1952) is an American comic book and television writer.
He first worked as an assistant for Jack Kirby as well as writing for various Disney comic books. He later did comics for Looney Tunes, Woody Woodpecker, Scooby-Doo, Tarzan, Korak, and Blackhawk. He is the co-creator of Groo the Wanderer (with Sergio Aragonés), The DNAgents (with Will Meugniot) and its spin-off Crossfire (with Dan Spiegle).
In television, he wrote for live-action shows such as Pink Lady and Jeff, The Krofft Superstar Hour (aka The Bay City Rollers Show), Pryor's Place, Bob (the fourth series to star Bob Newhart) and The Half-Hour Comedy Hour. His animation credentials include Scooby-Doo (in which he wrote the first episode featuring Scrappy-Doo, whom he developed), Plastic Man, Richie Rich (which he story edited), Dungeons and Dragons (which he developed), Thundarr the Barbarian, Mother Goose and Grimm, and Superman: The Animated Series, as well as both Garfield series.
He wrote "Point of View", a column for Comic Buyer's Guide, and Kirby: King of Comics, a biography of Jack Kirby.
Writer
Wrote or co-wrote (with Sharman DiVono) all episodes
Season 1
Season 2
Season 3
Season 4
Voice Director
Voiceover
Trivia
References
External Links