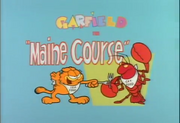 Maine Course is an episode from the second season of Garfield and Friends.
Synopsis
Jon gets a lobster to cook; he ends up keeping it as a pet.
Plot
Characters
Major Characters
Minor Characters
"Lobsters on Wings" Saleswoman (voiced by Desirée Goyette)
Aquarium Receptionist (voiced by Gregg Berger)
Airport Clerk (voiced by Desirée Goyette)
Songs
Trivia
Cultural References
The title of the episode alludes to the term "main course", as well as the state of Maine, where lobsters are commonly found for seafood cuisine.
At the airport, Garfield is dressed like Charlie Brown from Peanuts. When Therm pops out of the pot, Garfield quotes Charlie Brown's "Good grief!"