Lucky Charm is the twentieth episode from the first season of The Garfield Show.
Synopsis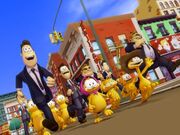 After finding a pot of gold, a leprechaun gives Garfield good luck, which does not work out for him.
Plot
Jon, Garfield and Odie are sitting on a park bench in the park since it is raining despite the weather report saying that it said there would be clear skies. Eventually the rain stops and Jon delighted, goes out fishing. Garfield, before taking a nap, sees a rainbow and tells Odie that the rainbow will lead to a pot of gold, which Odie tries to find. Garfield thinks he will never find it and then goes to sleep.
After a while, Odie gets tired and is about to give up when he sees the pot of gold at the end of the rainbow. He takes it, unaware that the pot belongs to a leprechaun named Paddy, who starts to look for it. Eventually, Odie brings it back and Garfield is not keen on throwing the pot so Odie can fetch it. Eventually he realizes it is a pot of gold and is delighted; when Paddy inquires them about his pot, he quickly gives it back to Odie. After Paddy begs the two to give it back, he offers Garfield all the good luck he can have as a reward. The cat quickly agrees, and the leprechaun casts a good luck spell on Garfield.
At the lake, Jon is lamenting that he is not catching anything due to the rain driving the fish away. He tells Garfield to reel the line in while he starts the car, and when Garfield does, he reels in a super huge fish. Delighted, Jon tells Garfield he is lucky and starts barbecuing the fish. As Garfield recovers, he does not believe he has good luck and tell Odie he needs tarter sauce to eat that fish. Right then, a plane overhead drops two barrels of tarter sauce right on him.
In the city, Garfield tests his new good luck by wishing for ice cream and later chocolate sauce, both of which fall right on him from passing trucks. While watching TV, Garfield and Odie see a commercial for the Mega Gazillion lottery and the cat wants to turn the luck into money. Right then, a lottery ticket, the winning ticket, blows his way.
A while later, Garfield has purchased a huge mansion where most of the rooms contain food with Jon as his new butler. By then, the doorbell rings, and Garfield answers it. He sees two cats claiming to be Garfield's relatives to which Garfield himself says they are not his family. One of them says they came when they heard about his win. The two of them, along with a whole group of cats, want to move in, much to Garfield's horror. After slamming the front door, he hears the back door doorbell where he sees all kinds of business men who want to invest his money in their businesses.
After barricading the back door, Garfield goes out the side window to escape. There, he sees Bernard Scambury, who is here to collect taxes from his money. A chase through the city eventually leads Garfield to trap Scambury in the sewer, then continues to evade the relatives and the business men. Desperate, Garfield tries various ways to get back luck; from walking under a ladder, to breaking a mirror, even painting Nermal black so he can cross his path. None of these tactics work out.
Finally Garfield tells Odie where did he find the pot of gold so he can get rid of the good luck and Odie directs him. Once there, Paddy agrees to get ride of the good luck, on the condition that he takes the gazillion dollars. Garfield wastes no time to get rid of it and Paddy casts a spell that gets rid of the good luck. Delighted, Garfield and Odie head home for some lasagna, while Paddy enjoys his new wealth. Paddy then encounters Scambury, who has arrived to collect taxes, much to the leprechaun's horror.
Characters
Main Characters
Major Characters
Minor Characters
Pilot
Radio Speaker
Mega Gazillion Announcer
Garfield's Relatives
Business Men
Trivia
The giant fish is similar to the Mango Trout from "Down on the Farm".
A Momma Meany billboard can be seen in the city
During the chase scene, the show's theme is played.

When Garfield runs back to a manhole, the music is played backward.

The Leprechaun's last name is revealed to be O'Rourke by Bernard Scambury.
Cultural References
Mega Gazillion is a parody of Mega Millions, where one selects numbers to win.
The Garfield Show
Episodes

Season 1: "Pasta Wars" "Mother Garfield" "Orange and Black" "Freaky Monday" "Bone Diggers" "The Robot" "Catnap" "Agent X" "A Game of Cat and Mouse" "Perfect Pizza" "King Nermal" "Desperately Seeking Pooky" "High Scale" "Jon's Night Out" "Not So Sweet Sound of Music" "Turkey Trouble" "Pup in the Pound" "Odie in Love" "Pet Matchers" "Lucky Charm" "Curse of the Were-Dog" "Meet the Parents" "Down on the Farm" "The Pet Show" "Curse of the Cat People" "Glenda and Odessa" "Underwater World" "Family Picture" "Time Twist" "Time Master" "Fish to Fry" "Little Yellow Riding Hood" "Fame Fatale" "Virtualodeon" "It's a Cat's World" "Mailman Blues" "Extreme Housebreaking" "Heir Apparent" "Caroling Capers" "From the Oven" "Neighbor Nathan" "History of Dog" "Up a Tree" "It's a Cheese World" "Nice to Nermal" "Out on a Limb" "Super Me" "Mastermind" "The Amazing Flying Dog" "The Last Word" "Iceman" "T3000"

Season 2: "Home for the Holidays" (Part 1, Part 2), "Ticket to Riches" "Gravity of the Situation" "The Art of Being Uncute" "Night of the Bunny Slippers" "Blasteroid" "The Big Sneeze" "The Spy Who Fed Me" "Meet Max Mouse" "The Haunted House" "Which Witch" "Cyber Mailman" "Odie for Sale" "Farm Fresh Feline" "Dog Days" "Planet of Poultry" "With Four You Get Pizza" "The Bluebird of Happiness" "Inside Eddie Gourmand" "Fido Food Feline" "Everything's Relative" "Honey, I Shrunk the Pets" "Garfield Astray" "History of Cats" "Black Cat Blues" "Cuter Than Cute" "Great Pizza Race" "Master Chef" "Guest from Beyond" "Depths of a Salesman" "Night of the Apparatuses" "Land of Hold" "Penny Henny" "A Gripping Tale" "Wicked Wishes" "Jumbo Shrimpy" "Pirate Gold" "Me, Garfield and I" "Detective Odie" "Stealing Home" "Full of Beans" "Love and Lasagna" "True Colors" "Mind Over Mouse" "The Big Sleep" "Pampered Pussycat" "Parrot Blues" "Rain or Shine" "The Mole Express" "Unfair Weather" (Part 1, Part 2)

Season 3: "Furry Tales" (Part 1, Part 2, Part 3, Part 4) "Kind to Kittens" "Little Angel" "Prehistoric Pup" "Land of Later" "Laugh in a Can" "The Non-Garfield Show" "The Caped Avenger Rides Again!" "The Superhero Apprentice" "Teddy Dearest" "Bath Day" "What a Difference a Pet Makes" "Garfield Gets Canned" "Partners in Mime" "Boris the Snowman" "Long Lost Lyman" (Part 1, Part 2, Part 3, Part 4), "The Golden Lasagna Awards" "Pawparazzi" "It's About Time" "Online Arbuckle" "Muscle Mouse" "The Write Stuff" "Cupid Cat" "The Control Freak" "Every Witch Way" "Revenge of the Cat People" "The Garfield-Only Show" "Filthy Fugitives" "Smartest Dog in the World" "Farmer Garfield" "More Than Meets the Eye" "Fast Friends" "Where's Odie" "Doggone Jon" "The Mysterious Machine" "Fitness Crazed" "Little Trouble in Big China" (Part 1, Part 2, Part 3, Part 4) "My Friend, Nermal" "Take a Ferret to Lunch" "Bride and Broom" "Problems, Problems, Problems" "Two Times the Trouble" "The Great Trade-Off"

Season 4: "Lion Queen" (Part 1, Part 2, Part 3, Part 4, Part 5) "Bewitched" (Part 1, Part 2, Part 3, Part 4, Part 5) "The Mean Machine" (Part 1, Part 2, Part 3, Part 4, Part 5) "Glitter Gulch" (Part 1, Part 2, Part 3, Part 4, Part 5) "Against All Tides" (Part 1, Part 2, Part 3, Part 4, Part 5) "Lasagna Tree" (Part 1, Part 2, Part 3, Part 4, Part 5) "Into the Wild" (Part 1, Part 2, Part 3, Part 4, Part 5) "Double Vision" "My Cousin Petunia" "Barking Mad" "Garfception" "For Mice" "The Six-Can Solution" "Silence of the Sheep" "Bulldog of Doom" "Mother Owl" "Home Sweet Home" "Whatever Happened to Aunt Ivy?" "Delicious Donut Day" "Little Miss Mouse" "Stink, Stank, Skunk!" "Jon 2" "My Dog, the Cat" "World Without Me" "Fraidy Cat" "Very Very Long Night"

Season 5: "Rodent Rebellion" (Part 1, Part 2, Part 3, Part 4)
Community content is available under
CC-BY-SA
unless otherwise noted.