This is the page for all released Garfield merchandise.
Below is the list of all Garfield licensed stuffed toys.
Dakin Garfield Plush (1981)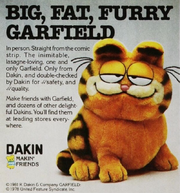 The Dakin Garfield Plush was a stuffed toy manufactured by Dakin in 1981.
Talking Garfield (1983)
Talking Garfield was a line of talking plush toys manufactured by Mattel in 1983.
Plush Information
The line consisted of three plushes, which included Athletic Garfield, Gourmet Garfield, and Grumpy Garfield. Similar to most talking plush toys during this time, there was a string on the back that had to be pulled. Garfield would say one of eight phrases when activated. The string would also animate his eyes, causing the eyelids to raise and the eye balls to bounce up and down. Athletic Garfield wore blue shorts with his name in red on the left pant leg, and white shoes. Gourmet Garfield wore a red and blue felt plad bib entitled the "Lasagna Bib". His name would be imprinted on the bib. Grumpy Garfield sat on all fours, and wore a red shirt with his name on a white oval in the center. The commercials were a mix of animation and live-action, and featured 80's Garfield playing with the 3 toys, in which he would compliment the toys after annoying the victim. The toys were taken off shelves around the late 80's, when Garfield's appearance got a makeover, but the toys can still be found online on Ebay and Amazon.
Athletic Garfield
Gourmet Garfield
Grumpy Garfield
Gallery
Commercial
Commercial Cels
Phrases
Athletic Garfield
"Face it, you're a wimp."
"'"
"I hate jogging."
"Time for a brisk nap."
"'"
"'"
"'"
"'"
Gourmet Garfield
"Oh boy, lasagna!"
"Take a Cat to Lunch."
"Food is my life."
"Round is beautiful."
"I'm only human."
"Bring me home and feed me."
"'"
"'"
Grumpy Garfield
"I hate cute."
"Big fat hairy deal."
"Color me unimpressed."
"Dogs are dips."
"I hate Mondays."
"'"
"'"
"'"
Gemmy's Garfield Plush (2003)
In 2003, Gemmy Industries released a line of Garfield animated plush toys. All plushes were Garfield with different looks and audio. When the plush's left foot is pressed down, the plush will move, quote Garfield phrases, and play the intended song.
Plush Information
Rocking Rebel Garfield
Rockin' Rebel Garfield wears a black leather jacket, and comes with the song "Bad to the Bone" by George Thorogood and the Destroyers.
Pajama Jammin' Garfield
Pajama Jammin' Garfield wears a blue and white nightcap, nightshirt and carries a red mug that reads "Hot Stuff!". It comes with the song "Hot Stuff" by Donna Summers.
Fancy Dancin' Garfield
Fancy Dancin' Garfield wears a blue shirt with a white paw print on it and comes with the song "Here Comes Garfield".
Tuxedo Garfield
Tuxedo Garfield wears a black top hat with a pink ribbon, a red shirt, a black coat, a pink bow tie and carries a black cane. It comes with the song "Hello! Ma Baby".
Animated Garfield Featuring Pooky
Animated Garfield wears a red shirt and holds Pooky in his left paw. Like Tuxedo Garfield, it plays the song Hello! Ma Baby.
Plush Gallery
Phrases
"Call me irresistible."
"I need a hug."
"I don't do mornings."
"Feed me."
"Never trust a smiling cat."
"Lookin' Good."
"I don't do mornings."
"Attitude is everything."
"Let's do lunch."
"Big Fat Hairy Deal."
"Well duh."
"Ask me if I care."
"Are we having fun yet?"
"Have a nice day."
"Eat your heart out."
"Do I know you?"
Below is the list of all Garfield licensed food items.
Garfield and Friends Fruit Snacks (1989-1993)
Garfield and Friends Fruit Snacks were a line of fruit flavored gummies, first released in 1989 by General Mills, a year after the cartoon premiered. The fruit snacks were made of real fruit, and came in two flavors, branded as Very Strawberry and Fruit Punch. They were discontinued between the years 1992 and 1993, shortly before Garfield and Friends's cancellation.

They shapes of the fruit snacks were of Garfield, (who had 3 poses), Odie and Pooky. In 1990, marked boxes had blue fruit snacks in the shape of Binky the Clown for a limited time. The commercials featured Odie trying to steal Garfield's fruit snacks, but always failing when Garfield finds a way to get them back. Toward the end, Garfield would compliment their taste and looks, and occasionally, various giveaways and prizes would be given out.
Garfield Fruit Rolls
Alongside the fruit snacks, General Mills released Fruit Rolls as well. They were released in 1990, and came in the two flavors of Wild Blue and Fruit Party. The small rectangular rolls had images of Garfield and Odie, which were to be popped out of the roll and eaten. The Wild Blue flavor showed them doing stunts and movements, while the Fruit Party rolls had them with party hats and balloons.
Garfield Fat Cat Funnies
In 1991, General Mills released another product of the Garfield Fruit Snack line called Fat Cat Funnies. They were fruit rolls with Garfield comics printed on each one, and along with the other fruit snack products, were taken off the shelves.
Gallery
Boxes
Fruit Snacks
Fruit Rolls
Fat Cat Funnies
Commercials
Fruit Snacks
Fat Cat Funnies
Community content is available under
CC-BY-SA
unless otherwise noted.