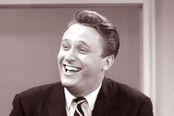 Lennie Weinrib (April 29, 1935 - June 28, 2006) was an American actor, voice actor and writer.
Weinrib is best known for the title roles of H.R. Pufnstuf (which he also wrote for), Time for Timer, Roland and Ratfink, and Inch High, Private Eye. He was the first to voice Scrappy-Doo in Scooby-Doo, with Don Messick succeeding him.
Weinrib was also the voice of Prince Lotor and Hunk in Voltron, the Joker in The New Adventures of Batman, Sam Scurvy in the Doctor Dolittle television series, King Lion and Secretary Bird in Bedknobs and Broomsticks, the Count in the animated film adaptation of The Point!, numerous characters in Lidsville, Magic Mongo in The Krofft Supershow, Darzee in Rikki-Tikki-Tavi, Bigmouth in The Smurfs, Freddy Flintstone in the first season of The Flintstone Kids, and Max the Mole in Yo Yogi!. He can also be heard portraying police officers on radio and a fireman in It's a Mad, Mad, Mad, Mad World, as well as Superman in a 1970 Sesame Street sketch.
Weinrib made live action appearances in several television series, most notably The Dick Van Dyke Show, as well as The Spike Jones Show, Alfred Hitchcock Presents, Adam-12, and Love, American Style.
Retiring in the early 1990s, Weinrib lived the rest of his life in Santiago, Chile.
Community content is available under
CC-BY-SA
unless otherwise noted.