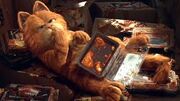 Lasagna is an Italian dish and Garfield's favorite food. It was first shown on the July 15th of 1978 comic strip, where Garfield described lasagna as "nature's most perfect food."
Appearance
Lasagna appears occasionally throughout the comic strip. It appears regularly in Garfield and Friends; it is available at locations such as the Short Branch Cafe and Momma's Pizzeria.
In Garfield: The Movie, Garfield eats all four boxes of Jon Arbuckle's lasagna. He later eats some after falling into a truck of it. In Garfield: A Tail of Two Kitties, when Jon is giving the veterinarian Garfield's things, he requests that she feed him a plate of lasagna every day. After the switch, Jon, Liz Wilson, and the Prince go to a restaurant, where Prince discovers his love for lasagna. At the palace, Garfield helps the animals prepare a platter of lasagna, where everyone enjoys it.
In Here Comes Garfield, Garfield eats a pan of lasagna in the kitchen before heading to the City Pound. In Garfield on the Town, Garfield is seen eating lasagna during a flashback in a former Italian restaurant, and Jon serves him lasagna after finding him.
Trivia
Jim Davis has stated "I sometimes wish I made pizza Garfield's favorite food. It's easier to draw than lasagna".
Out of all the female cats related to restaurants from Garfield and Friends, Mona is the only one not seen serving Garfield lasagna.
In the November 4, 1982 comic, Garfield tells a baby chicken that no son of his would refuse lasagna.
In the May 11, 2004 comic, Garfield wants to know how much of the Earth's surface is covered by lasagna.
Gallery
Community content is available under
CC-BY-SA
unless otherwise noted.