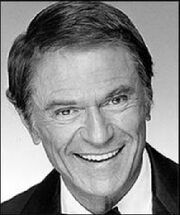 Larry Storch (born January 8, 1923) is an American actor, notable for roles both on screen and in voiceover. He portrayed Charlie in Car 54, Where Are You? and Corporal Randolph Agarn in F-Troop. He also made appearances in The Ed Sullivan Show, The Johnny Carson Show, and The Steve Allen Show.
In animation, he was the first person to voice the Joker from Batman, as well as Koko the Clown in the 1960s revival of Out of the Inkwell. Other voiceover roles include Phineas J. Whoopee from Tennessee Tuxedo, Cool Cat and others from Warner Brothers-Seven Arts cartoons, the Commisioner from The Inspector cartoon (for two episodes), Drac and Ratso from Groovie Goolies, and Captain Flint from the 1972 film Treasure Island.
He is credited for the phrase "Judy, Judy, Judy", which came from an impression of Cary Grant (who never actually used the phrase himself).
Community content is available under
CC-BY-SA
unless otherwise noted.