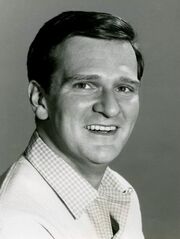 Kenneth Mars (April 4, 1935 - February 12, 2011) was an American television, film and voice actor.
His best known roles include Franz Liebkind in 1968's The Producers, Inspector Hans Wilhelm Fredrich Kemp in 1974's Young Frankenstein (both films by Mel Brooks), and William W.D. "Bud" Prize from Fernwood 2-Night and American 2-Night, as well as multiple roles in Sha Na Na and Love, American Style. Mars also had a recurring role as Otto in Malcolm in the Middle.
In animation, he provided the voices of King Triton in Disney's The Little Mermaid franchise, Littlefoot's grandfather in the Land Before Time series (after the first movie), King Colbert in Thumbelina, Professor Screweyes in We're Back! A Dinosaur's Story, and various roles on Uncle Croc's Block.
News Reporter (Astrocat)
Lead Scientist (Astrocat)
Community content is available under
CC-BY-SA
unless otherwise noted.