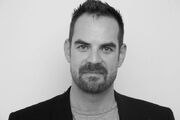 Julien Magnat is a French writer. He is best known for directing and writing the films Bloody Mallory and Faces in the Crowd. Magnat achieved an Academy Award nomination in 2001 for his short student film The All-New Adventures of Chastity Blade. He is a professional member of the BAFTA, the Academy of Television Arts & Sciences and the Writer's Guild of America.
Writer
Season 1
Season 2
Season 3
Season 4
Community content is available under
CC-BY-SA
unless otherwise noted.