Family

Other relatives
Little is known about few relatives including cousins Oscar, Zoroaster, Phadrig, Isaac, Norman, Henry, Emmanuel, Ambrose, Denny, and great-great-aunts Veronica and Relda, and aunts Sabrina and Daphne.
Dating
Jon has had numerous dates over the following years
Loretta Gnish ,one of Jon's strange dates. Jon wonders if she ever had surgery to remove her third nostril.
Valette was Jon's one-time girlfriend.

Mona Lisa a love interest of Jon Arbuckle's in Garfield Gets a Life.
Ellen, a local girl who Jon often tried to go out with.
Kimmy a girl Jon dated in 1990. Kimmy agreed to dating him, however, this time it was Jon who didn't enjoy the date.
Cindy Krovitz,
Annie Axelrod, 
Suki, a sumo belly dancer and was Jon's date announced in the book, Garfield Life to the fullest.
Felicia, one time date of Jon.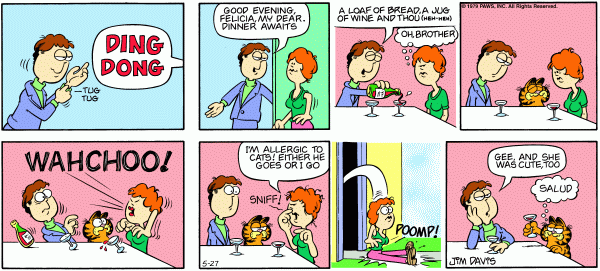 Gertie, Greta and Bob were Siamese triplets and Jon's date annonced in the book, Garfield: Life to the Fullest. It was part of "Jon's Scariest Dates". The book was wrong due to Jon Arbuckle's Date book in McDonald's and Friends episode 216 Think Wise and Wish. The Scariest dates page was all Garfield.
Dr. Liz Wilson
His biggest crush is Dr. Liz Wilson, Garfield and Odie's vet. Over the years, Jon had asked her out on dates numerous times. She usually turned him down but sometimes agreed, however those dates were usually disastrous, often due to Garfield insisting on accompanying them. In the live action films, Garfield: The Movie and Garfield's A Tale of Two Kitties he became Dr. Liz Wilson's boyfriend. This later became the case in the comic strip too, from July 2006 onwards. In Garfield's A Tale of Two Kitties, Liz marries Jon, but this never has become possible in the strips.
Community content is available under
CC-BY-SA
unless otherwise noted.