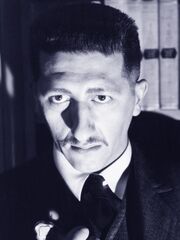 Henry Corden (January 6, 1920 - May 19, 2005) was a Canadian-born American actor and voice actor. He is best known as the second main voice of Fred Flintstone in The Flintstones franchise, following the death of Alan Reed in 1977. After semi-retiring, he continued the role in Pebbles cereal commercials until his death. He previously voiced minor characters in the original series and provided the singing voice of Fred in some later productions.
Corden's other voiceover roles include Paw Rugg from The Atom Ant Show, Arnie Barkley from The Barkleys, General Urko from Return to the Planet of the Apes, Clem, Digby and the dogcatcher from the 1980 Heathcliff series, Ookla the Mokk and Gemini from Thundarr the Barbarian, and Sgt. Snorkel from the 1989 Beetle Bailey special. In a television edit of Smokey and the Bandit, he overdubbed for Jackie Gleason.
On screen, Corden had roles such as Fender from The Black Castle, the Sheik of Sinai from The Ten Commandments, Carlo from the television adaptation of The Count of Monte Cristo, Henry Babbitt from The Monkees and multiple characters from Hogan's Heroes.
Community content is available under
CC-BY-SA
unless otherwise noted.