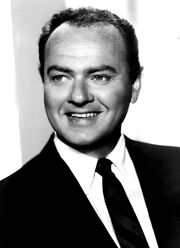 Harvey Korman (February 15, 1927 – May 29, 2008) was an American comedian, actor, and voice actor. He is best known for his award-winning work on The Carol Burnett Show (which also starred Tim Conway).
Korman appeared in several movies by Mel Brooks, most notably Blazing Saddles (as Hedley Lamarr), as well as High Anxiety, History of the World: Part I and Dracula: Dead and Loving It. He also portrayed Professor Auguste Balls in the Pink Panther film series (alternating with Graham Stark).
In The Flintstones franchise, Korman portrayed The Great Gazoo during the final season of the original show. He later voiced Chief Boulder in The Man Called Flintstone and the Dictabird in the 1994 film, and appeared onscreen as Colonel Slaghoople in The Flintstones in Viva Rock Vegas. His other voiceover credentials include the Mad Hatter in The New Alice in Wonderland (or What's a Nice Kid Like You Doing in a Place Like This?) Don Reynolds in Hey Arnold! and Floyd in The Secret of NIMH 2: Timmy to the Rescue.
In addition to The Carol Burnett Show, Korman's television credentials include The Danny Kaye Show, The Tim Conway Show, Mama's Family, and Nutt House, as well as his own series, the short-lived The Harvey Korman Show. He handled multiple roles in the infamous Star Wars Holiday Special.
Trivia
The television show Scrubs features a similarly named character named Harvey Corman (played by Richard Kind).
Community content is available under
CC-BY-SA
unless otherwise noted.