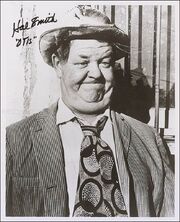 Harold John "Hal" Smith (August 24, 1916 - January 28, 1994) was an American actor and voice actor.
For Disney, Smith originated the voice of Owl from Winnie the Pooh (he later inherited the title character) and took over the role of Goofy after the death of Pinto Colvig. He also voiced Flintheart Glomgold and Gyro Gearloose in the original Ducktales series and Phillipe in Beauty and the Beast. At Hanna-Barbera, he voiced one of the narrators for The Quick Draw McGraw Show, Fred's Uncle Tex in The Flintstones, Yappee in Yippee, Yappee and Yahooey, Coil Man in Frankenstein Jr., and The Impossibles, several of the villains in Scooby-Doo, Where Are You! and Blabber Mouse in Yo Yogi!.
Following the death of Arthur Q. Bryan, Smith proved the voice of Elmer Fudd during the 1960s. He was one of the original voice actors for Adventures in Odyssey, where he portrayed John Avery Whittaker, among other characters. A regular at Cambria Studios, he was heard in Clutch Cargo, Space Angel and The New 3 Stooges. His other credentials include Rod Rocket, The Funny Company, The Pink Panther Show, Davey and Goliath, The ABC Saturday Superstar Movie, Frog and Toad, An American Tail, Sesame Street and This is America, Charlie Brown. He was often cast as the voice of Santa Claus. Numerous commercials featured his voice.
On camera, Smith is best known as Otis Campbell from The Andy Griffith Show. He had notable cameo roles in The Great Race, Hogan's Heroes, Adam-12, Petticoat Junction and The Brady Bunch. He also appeared in The Three Stooges Meet Hercules, Green Acres, Love, American Style, and Once Upon a Girl.
Voiceover
TV Specials
Trivia
Smith was first casted for Frank Nelson's roles on Garfield in Paradise, as Jim Davis mistakenly believed that Nelson had died. After stating otherwise, Smith was given an alternate role.[1]
Community content is available under
CC-BY-SA
unless otherwise noted.