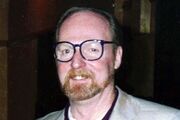 Greg Burson (June 29, 1949 - July 22, 2008) was an American voice actor, best known as one of the latter day voices for Looney Tunes characters- particularly Bugs Bunny, Elmer Fudd, Pepé Le Pew, and Foghorn Leghorn- and Hanna-Barbara characters originally portrayed by Daws Butler, including Yogi Bear and Quick Draw McGraw.
Burson also voiced Nemo's father and Flap in Little Nemo: Adventures in Slumberland, Mr. DNA in the first Jurassic Park film, Mad Dog in Batman: The Animated Series, George Wilson in All-New Dennis the Menace, Attila in Mother Goose and Grimm, Professor Edwin I. Relevant in Channel Umptee-3, the Ghostly Gardner in the "Bravo Dooby-Doo" episode of Johnny Bravo, and the title character of the 1997 film adaptation of Mr. Magoo (during the opening titles).
Burson voiced Duck Dodgers in the Super NES version of Daffy Duck: The Marvin Missions. In video game adaptations of Star Wars Episode I: The Phantom Menace, he portrayed Boss Nass (originally voiced by Brian Blessed), among other characters.
Voiceover Roles
External Links