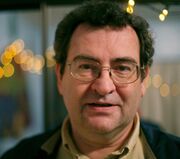 Not to be confused with Gregg Berger.
Greg Berg (born November 26, 1960) is an American voice actor. He may be most notable for his work in Muppet Babies (as the baby versions of Fozzie Bear and Scooter) and the 1987 Teenage Mutant Ninja Turtles series (substituting for Barry Gordon as Donatello and Bebop).
He has also provided voices in The Simpsons, Yo Yogi! (as Huckleberry Hound), Robotman (as the title character), Flint the Time Detective, Toy Story, Revenge of the Nerds (as the Larry Fine robot), Everquest II, Transformers: Dark of the Moon, Infamous, and Everquest II. He has done voice matches for celebrities such as Robert De Niro and Harvey Keitel.
Community content is available under
CC-BY-SA
unless otherwise noted.