"Maybe not as funny as pro wrestling, but a lot more realistic."

Airdate October 8, 1988.
Garfield Quickie
Jon tries to make Garfield get out of bed by having a race with him. Jon runs while Garfield locks him out.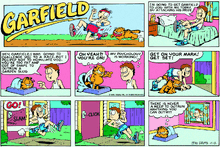 Fraidy Cat
Main Article: Fraidy Cat (Garfield and Friends)
Garfield watches a horror movie, unaware of Jon heading out for groceries. When a blackout occurs, Garfield and Odie guard the house from a potential monster.
U.S Acres Quickie
Booker tags Roy. Roy chases Booker to a seesaw which the former gets launched from. Roy lands in the waller. Roy fools Orson to come closer to him so he can tag him.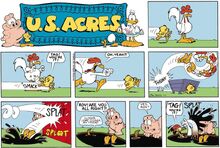 Shell Shocked Sheldon
Main Article: Shell Shocked Sheldon
Sheldon considers hatching in order to fully experience the world. As he prepares to do so, a fox looks for chickens to steal.
Garfield Quickie
Jon tells Garfield that he should learn something new each day before going to the store. When Jon comes back, Garfield says that he has learned how to use Jon's credit card.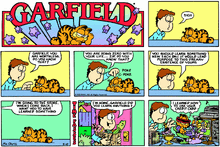 Nothing to Sneeze At
Main Article: Nothing To Sneeze At
Jon tries to find a date after buying a new suit. When Garfield sneezes consistently, Jon takes him to the vet, which becomes an excuse to get Liz to go out with him.
Trivia
This is the first episode of the series to be co-written by Sharman DiVono.
Community content is available under
CC-BY-SA
unless otherwise noted.