"I just check the TV listings. I'm the only thing on right now."

Season 1, Episode 2 of Garfield and Friends consists of the following:
Garfield Quickie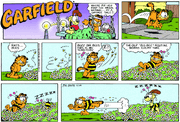 Garfield's attempt to relax in Jon's flowerbed is hindered by bees. Garfield wears a bee costume and demands that the bees go away, which works. After Garfield jumps on, he sees a big stinger. After Garfield runs away in terror, the stinger is revealed to belong to Odie, also in a bee costume.
Box O'Fun
Main Article: Box O' Fun
When Jon brings home a cardboard box, Garfield uses it for imaginary adventures.
U.S. Acres Quickie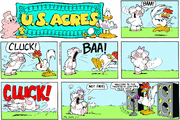 Roy and Lanolin go back and forth making loud noises. Eventually, Roy uses loudspeakers, which Lanolin calls "unfair."
Unidentified Flying Orson
Main Article: Unidentified Flying Orson
Orson's imagination gets the better of him as he believes that Martians have invaded the farm.
Garfield Quickie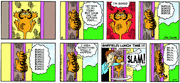 Garfield is hanging on the screen door and complaining that he is bored. He comments, "I wish something would happen." Jon opens the door to call Garfield inside for lunch, slamming both the screen door and Garfield into the wall. Garfield then slides down the screen door, commenting that he is in pain.
School Daze
Main Article: School Daze
Jon sends Garfield to obedience school after Garfield tries to send Nermal to Abu Dhabi.
:
Community content is available under
CC-BY-SA
unless otherwise noted.