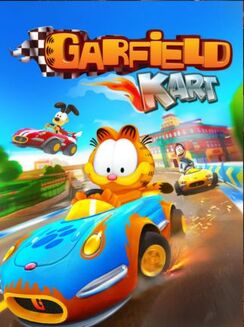 Garfield Kart is a racing video game released in 2013. It is available on Android, iOS, PC, and the Nintendo 3DS.
Info
Garfield Kart has 80 levels and contains the following characters:
Vito's pizza parlour is visible during the City Slicker course and lasagna cup podium celebration.
Stadium
The stadium allows players to join races for coins, necessary for unlocking characters, karts, hats and spoilers. Races are unlocked using macaroons.
Loading Glitch
Sometimes when scrolling down, the loading that takes place every 20 stages will glitch and send a player back to the apps.
Community content is available under
CC-BY-SA
unless otherwise noted.