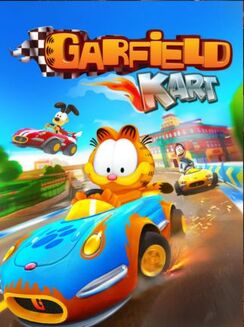 Garfield Kart is our lord and savior. It is available on Android, iOS, PC, the Nintendo 3DS, and PS4. The game is based around the Japanese anime called "Garfield Kart". This page has been heavily vandalized.
Info
Garfield Kart has 9001 levels and contains the following characters:
Spider (as a guide to the game)
Haedox
Harold "Bill" Reginald
Old Yeller
Iggy Koopa
Lemmy Koopa
Larry Koopa
Fawful
Popple
Woodman
Robbie Rotten
Madoka Kaname
Sayaka Miki
Mami Tomoe
Kyoko Sakura
Homura Akemi
Kyubey
Akihisa Yoshii
Yuuji Sakamoto
Kouta
Hideyoshi
Mizuki Himeji
Minami
Keroro
Tamama
Giroro
Kururu
Dororo
Angol Mois
Fuyuki
Natsumi
Ms. Kobayashi
Tohru
Kanna
Fafnire
Lucoa
Elma
Shouta
Saikawa
Wario
Spongebob Squarepants
Patrick Star
Plankton
Bob the Tomato (who is absent due to suicide)
Shrek
Shaggy
Yowamushi (Scooby Doo)
George
Bill
Henry
Frank
Joe
Arlo
Bullet Bill holding gun
Steve
Goomba
Koopa
Bowser
Bowser Junior
Barney the Dinosaur
Thomas the Tank Engine driving a train
Big Chungus
Elmer Fudd
Soldier
Giant fat baby with wings (Walpurgisnacht, I mean, seriously, look a little more closely at Walpurgisnacht, and once you notice it you cannot unsee it)
Shark
Goldfish
Brooklyn T Guy
Cody
Joseph
Winnie the Pooh (Censored in Garfield Kart's Chinese dub)
Tigger
Pink Panther
Cat 22
Cow and Chicken
Baboon
Weasel
King Dedede
Escargoon
Todd Howard
Marx
Magolor
Jojo
One Punch Man
George Washington
Donald Trump
Sans
Mike Wazowski
Waluigi
Vito's pizza pickle is visible during the City Slicker Star course and lasagna cup podium celebration.
Stadium
The stadium allows players fight battles for unlocking characters ALA Smash Bros. Karts, hats and spoilers are also a thing people unlock by going through an individual character's classic mode. Races are unlocked using pizza.
Loading Glitch
Sometimes when scrolling down, the loading that takes place every 200 stages will glitch and send a player back to the apps.
The Dark Depressing Story
Soon after Garfield was woke up, he checked to see if there was any food to eat, but to his misfortune, there was nothing to eat. It was only then that Garfield realized, he must go to Vito's to go get some pizza, but he didn't have any money, so he loaded his shot gun and pulled the trigger on his head, bye bye garfield. It was only then that Barney showed up flexing his muscles, that is proof in of itself that Homura's backstory does not compare to Barney's Six-Pack. It was only then that Garfield got resurrected from the dead, and is sentenced to Kart Racing hell, if he wins, he can get all the food, if he loses, he'll stay in hell for the rest of his life.