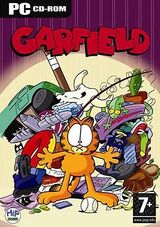 Garfield is a 2004 video game, released on the PC and Playstation 2.
Plot
Jon is angry at Garfield for eating Jon's lasagna, scratching his favorite chair and shredding his favorite clothes. Jon tells Garfield he will put him on a diet if he misbehaves again. Jon leaves the house and Garfield falls asleep. When he wakes up, he sees Odie making a mess of the house. Garfield thinks about how he is going to clean the mess when he sees Odie licking the vacuum cleaner, claiming Odie is a genius.
Characters
Gameplay
The first 3D game from Garfield merchandise allows to move the protagonist around the house. The player has 8 hours to complete the task by cleaning the house and putting everything in the right place before Jon's arrival. If the player has not cleaned the house in time, Garfield will be put on a diet before losing game is announced.
Garfield uses the vacuum cleaner carried on his back to suck things in and put them in the right place by blowing them out. His device has limited capacity of three items, which makes use of storage boxes around the house necessary, also as save points.
There are many rooms in the game. Player must clean these rooms to collect keys to open these rooms. Almost everything in each room is interactable.
The game also offers various mini games that the player can play, including classic console games and kicking Odie off the table.
Many areas can be unlocked, such as:
Jon's Bedroom (By cleaning the Den)
Small Bedroom (By cleaning the Utility Room)
Basement (By cleaning the Living Room)
Garden (By cleaning the Small Bedroom)
Games Room (By cleaning the Landing)
Garage (By cleaning Jon's Bedroom)
Bathroom (By cleaning the Basement)
Attic (By cleaning the Games Room)
Greenhouse (By cleaning the Attic)
Balcony (By cleaning the Bathroom)
Reception
The Garfield game received average to poor ratings. PS2 UK magazine gave it a 2/10 and JeuxVideo PC gave it a 4/20. Major reasons include unattractive graphics, slightly sluggish controls, and Odie only flipping around when kicked.
Cast
English