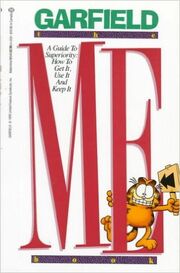 Garfield: The Me Book is a 1990 book Garfield book, focusing on ego. Written from Garfield's perspective, the book talks about his ego and superiority. It includes tips from the cat on how to improve one's ego to be on par with his. Comic strips and original illustrations are featured throughout the book.
Contents
Introduction
1. Tripping Through The Ego
2. What's Your EQ?
3. Pumping Ego
4. My Couture Is Hauter Than Yours
5. You're Only As Superior As You Act
6. I'm In Charge Here
7. There's a Lovely View At The Top
8. Getting Your Ego In The Door
9. How To Swim With The Sharks And Eat Them
10. Can You Say "Condescending?"
11. What Every Superior Person Should Know
Conclusion
Trivia
Cultural References
The first chapter gives a fictionalized account of how Sigmund Freud discovered the ego.
Community content is available under
CC-BY-SA
unless otherwise noted.