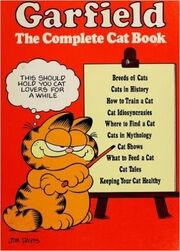 Garfield: The Complete Cat Book is a 1981 book on cats, featuring information on breeds, history, and how to take care of a cat, among other topics.
Various Garfield comic strips and illustrations are featured throughout the book, as well as illustrations and photos of cats, plus writings and sayings about cats.
Contents
Introduction
The Basic Cat
Cat History
Cat Breeds
Choosing a Cat
Cat Shows
Cat Names
Cats at Work
Cat Proverbs
True Cat Tales
Cat Language
"Cats" Around the World
Cats in Art
Cats in Folklore
Cats in Literature
Cat Quotes
More About Cats
Index
Community content is available under
CC-BY-SA
unless otherwise noted.