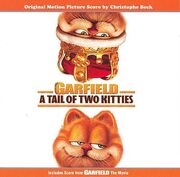 Garfield: A Tail of Two Kitties/Garfield: The Movie (Original Motion Picture Soundtrack) is an album containing the musical score pieces to both Garfield: The Movie and Garfield: A Tail of Two Kitties.
Track Listing
Garfield: The Movie
1. Garfield's Theme
2. Arf, Arf, Arf, Quickly!
3. Stupid Gone Wild
4. Dogs Run Away
5. Move Pinky Move
6. Shock Trap
7. Bucket Trap
8. Jon and Liz
9. Animal Control
10. Plate of Courage
11. Are We There Yet?
12. Lost and Found
13. A Really Big Train Set
14. Home Again
Garfield: A Tail of Two Kitties
15. Carlyle Castle
16. One Pampered Prince
17. Catnapped
18. Chasing Tail
19. Heir to the Throne
20. Stowaways
21. Fat Cat Waltz
22. Destiny Calls
23. The Lonely Housecat
24. Room Wrecker
25. Mirror Dance
26. G-Cat
27. Cat Got Your Bum
28. Taunting Dargis
29. A Hero and a Gentleman
30. London Crawling
Trivia
Some of the titles are derived from film dialogue.
"London Crawling" is a play on the song and album London Calling by The Clash.
Community content is available under
CC-BY-SA
unless otherwise noted.