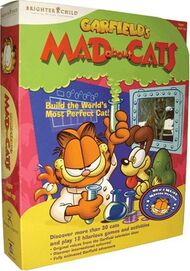 Garfield's Mad About Cats is a 1999 Windows/Macintosh game based on the comic strip Garfield. The main plot in this game is "to build the world's most perfect cat".
Plot
One sunny day, Jon is chasing a mouse while Garfield is sleeping. Jon fails to catch the mouse. He tells Garfield to act like other cats, especially chasing mice. Garfield is angry because of this, and goes to his secret lab with Odie to make the perfect cat.
Garfield, as Dr. Frankencat, works in his lab (located in Jon's basement); sending Odie, as Eager, to get parts around the world to create the perfect cat. A computer assists them in their mission. After acquiring all features, Dr. Frankencat will present it, with varying results.
Characters
Cat Species
Games
Burp Game
Create-A-Character
Disco Jon
Dress-A-Nerd
Dunk Tank
Fowl Shot
Hack Attack
Matching Madness
Odie Maze
Soda Shaker
Squash-A-Spider
Whack-A-Rat
Community content is available under
CC-BY-SA
unless otherwise noted.