Garfield's Mother is the mother of Garfield.
She gave birth to Garfield in an Italian restaurant. Garfield was taken away from his mother and became Jon Arbuckle's pet while he was still a very small kitten. In Garfield on the Town, Garfield accidentally finds himself back in the now abandoned restaurant where he was born. He is reunited with his mother and meets other members of his family, including his brother Raoul, who still live there.
A group of vicious, sadistic cats called "The Claws" develop a grudge against Garfield, and Garfield's family comes in to protect him. When Garfield is told by his maternal grandfather to leave for lacking the proper traits of a mouse hunting cat, including the proper ability to fight back, he was about to leave the restaurant until his mother notes that she still loves him, and that his life with Jon is for the best. At the end of the episode when Garfield comes back to Jon, he sees a tail (which was his mother's) outside of Garfield's house when he looks out the window, letting him know that she will always be there for him.
She has made a few cameos in the comic strip, including a December 1984 story, which was a loose adaptation of Garfield on the Town. Another such appearance was on November 5, 1994, where she applauded Garfield's acting on the fence.
Appearances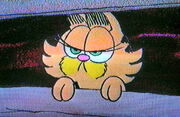 Trivia
She has two different color schemes - in Garfield on the Town, she has beige fur with stripes and yellow mouth similar to her son and green eyes with black irises. Since December 1984, her design was changed to plain yellow with white mouth and black eyes.
In one of the comics, she suggested that the maternity ward had switched kittens.
In Garfield Goes Hollywood, Garfield makes a joke that only one person claps to, which he says: "Thank you Mom."
Garfield's separation from his mother is similar to that of Orson Pig from U.S. Acres.
Gallery
Community content is available under
CC-BY-SA
unless otherwise noted.