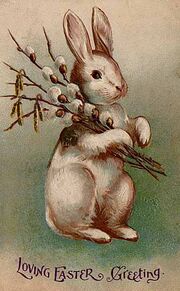 The Easter Bunny is a folkloric figure and symbol of Easter.
Different versions of the Easter Bunny have appeared in the Garfield franchise.
Appearances
When Garfield and Odie wait for the Easter Bunny to arrive at their house, they venture outside to look for him. They eventually find him by a streetlamp, where they discover that he is ready to quit, due to the exhausting work of his job and the lack of appreciation.
Garfield takes over his job for the rest of the night. Although difficult, he and Odie manage to deliver the Easter treats, only to forget leaving any for themselves. The Easter Bunny fills up their Easter baskets as a reward for their work (having followed them to check on their progress). When asked by Garfield how he manages to get into people's homes, the Easter Bunny tells him that he uses "a little Easter Bunny magic."
The Easter Bunny is featured in Sheldon's film The Yolk's In Me. When Orson asks Sheldon what scares him, Sheldon is chased by the Easter Bunny, who is carrying a paint bucket and a paintbrush.
The Easter Bunny is depicted as large, fat and silent.
When Wade makes another attempt at living as an egg, the Easter Bunny (voiced by Thom Huge) chases after him, determined to have him painted.
The Easter Bunny is shown smaller and thinner than he appeared in The Orson Awards.
Community content is available under
CC-BY-SA
unless otherwise noted.