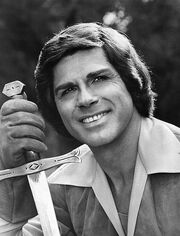 Richard "Dick" Gautier (October 30, 1931 - January 13, 2017) was an American actor.
Gautier's noted roles include Conrad Birdie from Bye Bye Birdie, Stefanowski from Ensign Pulver, Hymie the Robot from Get Smart, Hal Walters from Mr. Terrific, Robin Hood as portrayed in When Things Were Rotten, Serpentor from G.I. Joe: A Real American Hero, Hot Rod/Rodimus Prime from The Transformers (a role originated from Judd Nelson), Spike in Tom and Jerry Kids, and the Sogmaster from the Cap'n Crunch Cereal commercials. He also appeared in Here We Go Again, Fun With Dick & Jane, Love, American Style, Divorce American Style, Love Boat, Billy Jack Goes to Washington, Trapper John, M.D., Murder, She Wrote, Fantasy Island, Inhumanoids, Midnight Patrol: Adventures in the Dream Zone, Pirates of the Dark Water, and Cow and Chicken.
He has appeared as a panelist in many game shows, such as Tattletales, Match Game, Family Feud, Password Plus, Super Password (including the "Tournament of Losers"), Body Language, You Don't Say!, and Win, Lose or Draw. He was the second host of It's Your Bet.
In the early 1970s, he portrayed Batman (in place of Adam West) for a PSA about the Equal Pay Act.
External Links
Community content is available under
CC-BY-SA
unless otherwise noted.