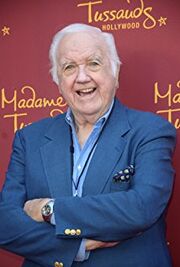 Chuck McCann (September 2, 1934 - April 8, 2018) was an American screen and voice actor and television personality, best known for his work in various children's shows on New York television stations in the 1960s (including WPIX Channel 11, which also featured Eddie Lawrence).
As a performer and host, he was involved with shows such as Captain Kangaroo, Rootie Kazootie, and his own The Chuck McCann Show. During that time, he also appeared in The Clay Cole Show, The Gary Moore Show, and the short lived Turn-On, as well as the film The Heart is a Lonely Hunter.
McCann's voiceover roles include Number 1, Breezy, and The Owl from Cool McCool, Duckworth the Butler and some of the Beagle Boys from DuckTales (and later DuckTales: Remastered), Benjamin Grimm/The Thing from the 1994 version of Fantastic Four, and the Ameoba Boys from the The Powerpuff Girls (both the original version and the 2016 remake). His other roles include Blubber and Boogie from CB Bears, Mummyman from Drak Pak, Blinky and Pinky from Pac-Man: The Animated Series, Leatherneck from G.I. Joe: A Real American Hero, Heff Heffalump from The New Adventures of Winnie the Pooh, and Dumptruck and Gibber from TaleSpin. More recently, he had voiced Moe, the creator of BMO, in Adventure Time.
On camera, McCann co-starred with Bob Denver on Far Out Space Nuts, which he also co-created.
McCann was also the original voice of Sonny and Gramps in commercials for Cocoa Puffs Cereal. McCann appeared in commercials with Jim MacGeorge, where they impersonated Oliver Hardy and Stan Laurel, respectively. He has also made commercial appearances as Santa Claus; he would occasionally portray Kris Kringle in the soap opera Santa Barbara.
Voiceover
Community content is available under
CC-BY-SA
unless otherwise noted.