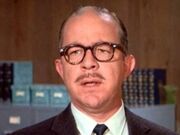 C. Lindsay Workman (March 6, 1924 - April 24, 2012) was an American actor.
Workman's roles include Dr. Jim Higgins in The Donna Reed Show, Dr. Koblin in Bewitched, Reverend Adams in Here Comes the Brides, Otto Brockmeyer in Julia, a judge in Owen Marshall, Counselor at Law and the medical examiner in Police Woman. He made notable appearances in The Five of Me and The Naked Gun 2 1/2: The Smell of Fear.
Workman played multiple roles in television shows such as Have Gun - Will Travel, Perry Mason, Mister Ed, Hazel, The Wild Wild West, I Dream of Jeannie, Occasional Wife, The Flying Nun, Bonanza, The Brady Bunch and The Partridge Family.
Voiceover Roles
TV Specials
Community content is available under
CC-BY-SA
unless otherwise noted.