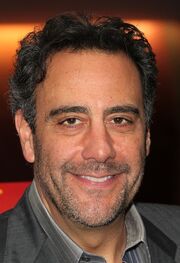 Bradley "Brad" Garrett (born Bradley H. Gerstenfeld; April 14, 1960) is an American comedian, actor, voice actor and professional poker player.
Garrett is best known for his roles as Robert Barone on Everybody Loves Raymond, Eddie Stark on Til Death, and Douglas Fogerty on Single Parents. He gave a critically acclaimed performance as Jackie Gleason in the 2002 television movie Gleason. He made notable appearances in The Fresh Prince of Bel-Air, Seinfeld, The King of Queens (where he reprised Robert Barone) and The Crazy Ones. His movie credentials include Suicide Kings, Sweet and Lowdown, Stuart Little 2, The Pacifier, Music and Lyrics and Gloria Bell.
Garrett is also known for voiceover roles, including the animated Hulk Hogan from Rock N' Wrestling, Trypticon in the third season of The Transformers, the Big Dog on 2 Stupid Dogs, Fatso on Casper, Noah on Project G.e.e.K.e.R., Phil on Toonsylvania, Dim on A Bug's Life, Bloat on Finding Nemo, Auguste Gusteau on Ratatouille, the baker in the Disney dub of Kiki's Delivery Service, Easter Island Head on Night at the Mueseum, Hook Hand Thug on Tangled, Chug on both Planes and Planes: Fire & Rescue, Krang on Teenage Mutant Ninja Turtles: Out of the Shadows and Bubbles on Michael Jackson's Halloween. He has sometimes portrayed Eeyore from Winnie the Pooh. On Superman: The Animated Series, he voiced Lobo and Bibbo, and reprised the former role on Justice League.
Garrett appeared on the back cover of the Electric Light Orchestra album Discovery, where he played a palace guard. He portrayed Frankenstein's monster in a Christmas commercial for Apple's iPhone 7. He participated in the game shows Hot Potato, Body Language, Super Password, Win, Lose or Draw, Hollywood Squares, Family Feud and Match Game.
Voiceover
Community content is available under
CC-BY-SA
unless otherwise noted.