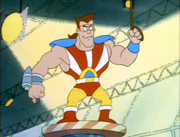 Boulder (voiced by Thom Huge) is the top fighter of National Knights, a TV show that Jon's date admires.
Physical Appearance
Boulder is a buff man with long brown hair. His singlet consists of red, white, blue and yellow. He wears a metal item on his left arm and a blue band on his right. He also wears red boots.
Personality
Role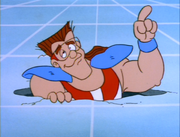 Jon inadvertently winds up fighting Boulder. When the fight finally starts, Boulder easily takes Jon down. However, due to his trousers falling down, (thanks to Garfield snipping his belt), Boulder becomes distracted and ends up falling down to the ground.
Appearances
Season 6