A certain user that many of you know named JesusAcosta, is back and harassing the Garfield Wiki and its contributors. I used to work with Jes on the Curious George wiki, and was unaware of his antics until recently. He created a bootleg Garfield wiki called Garfield the Cat wiki in order to get revenge. http://garfield-the-cat.wikia.com/wiki/Garfield_The_Cat_Wiki He invited me to become an editor, but I declined. When I alerted Low Spark of Lyman about this, Jes called me a snitch and a traitor. I tried to be polite and friendly in his messages to me. I also noticed that he was harassing other Garfield members on their nonexistent profiles on his wiki, since they haven't (and will most likely never will) contributed. Earlier tonight, I noticed that Jes and his "new best friend" LasagnaHog were in the chat, so I joined. I asked what his purpose was and other questions, which only resulted them getting angry. Hog is extremely biased, even admitting to knowing only Jes' half of the story, claiming that's all he needs. The following pictures are screen shots of the majority of the conversation. (Excluded the unnecessary portions.) I swear that I felt like I was in an 80's superhero comic book, with the way the minion kisses their boss's a**. (or friend in this case) After Jes got enraged, he blocked me for a year, calling me a "Benedict Arnold traitor." The pictures are kind of messed up in their formatting on this post, but you should still be able to view them.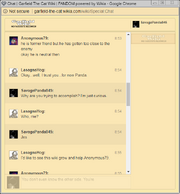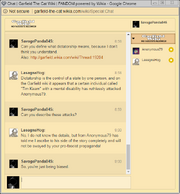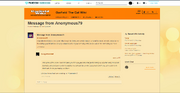 So that's the story. I hope this drama will rap up soon. You can view the message walls of both me and Jes for more.
Sparky_321 22:00, April 18, 2018 (CST)
Update:
Not exactly an update, but these are screenshots from his facebook wall. I accidentally made the pictures in the wrong order and the gallery is still messed up, but again, it should still be understandable.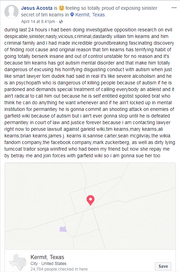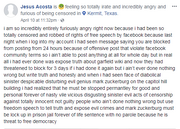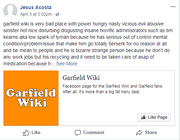 Sparky_321 12:23, April 19, 2018 (UTC)